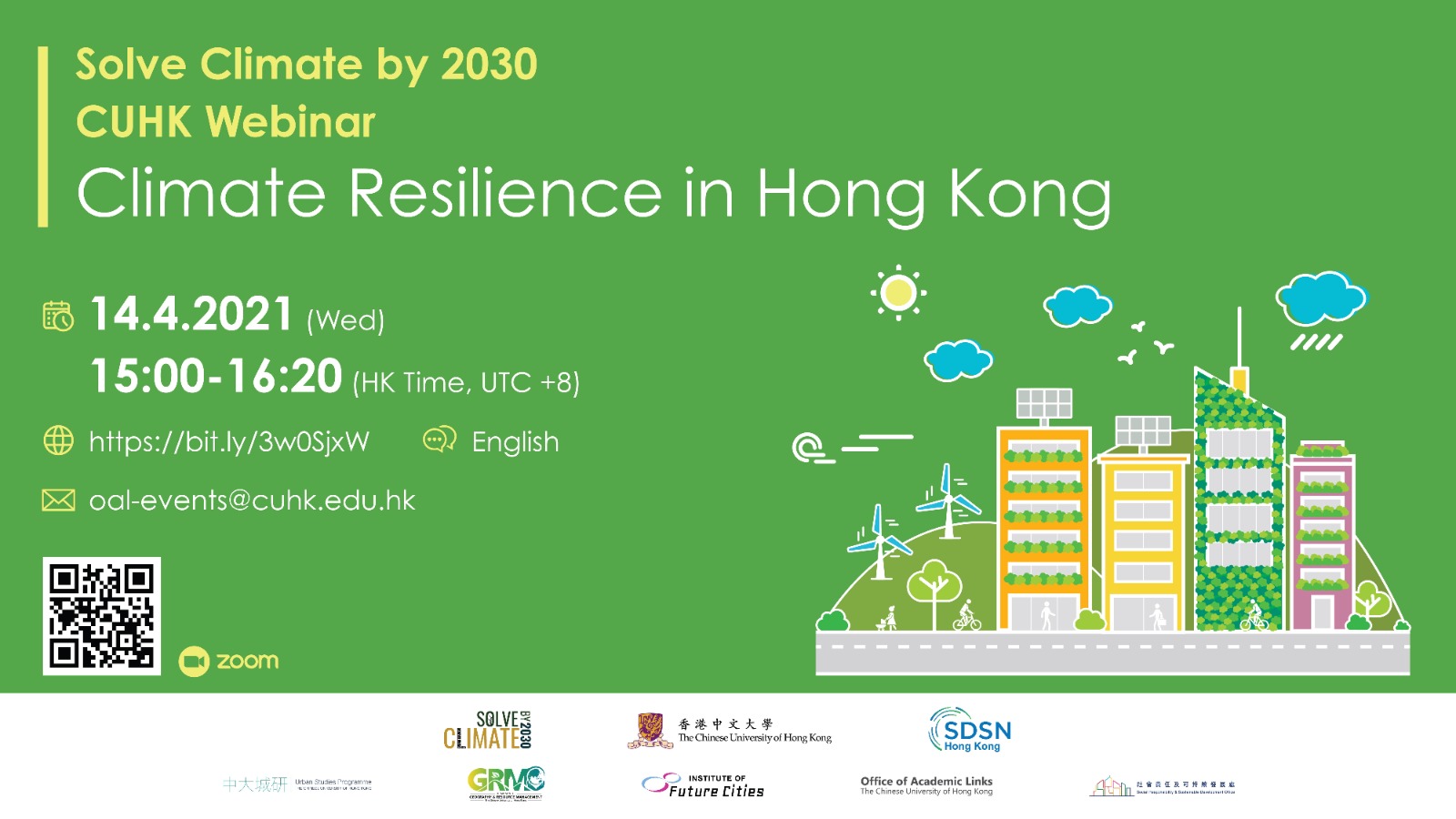 2030 is the target year to achieve the 17 Sustainable Development Goals, an action plan for people, planet and prosperity. Without immediate actions to combat the climate crisis, we may have to face extreme weather, floods, droughts and sea-level rise by 2030, with dire consequences.
With a steadfast commitment to promoting sustainability, The Chinese University of Hong Kong (CUHK) is pleased to present a webinar 'Climate Resilience in Hong Kong' on Wed, 14 April 2021, as part of the worldwide campaign Solve Climate by 2030, a Global Dialogue involving 100 webinars engaging influential speakers in 50 countries to address climate change.
The webinars will serve as learning materials (#MakeClimateAClass) for university and secondary schools around the world and facilitate the development of climate solutions through just transition (in energy and other sectors) and green recovery.
CUHK, in collaboration with the SDSN Hong Kong and the Association of Pacific Rim Universities, will take part in this campaign which will be one of the largest academic movements of 2021.
The CUHK webinar will explore what the government of Hong Kong, the private sector and the civil society can do to foster climate resilience in the city's developments. Mr Wong Kam-sing, Secretary for the Environment will speak on the city's plan towards carbon neutrality, Dr Jeanne Ng, Director, CLP Research Institute will speak on the building of climate resilience in the power sector, and Dr William Yu, CEO, World Green Organisation will talk about how to get the community ready to build urban resilience in face of the climate crisis. Please click here for more details.
Date
14 April 2021
Time
15:00-16:20 (HKT, UTC +8)
Format
Zoom webinar in English
Speakers

Mr Wong Kam-sing, Secretary for the Environment, HKSAR Government
Dr Jeanne Ng, Director, CLP Research Institute, CLP Holdings Limited
Dr William Yu, CEO, World Green Organisation

Moderators

Professor Tung Fung, Director, Institute of Future Cities, CUHK
Professor Mee Kam Ng, Programme Director, Urban Studies Programme, CUHK

Registration
Please complete the online registration form by 17:00, 13 April. A Zoom link will be sent to you upon registration.
Enquiries
Please contact Ms Olivia Kwok of the Office of Academic Links, CUHK at

This email address is being protected from spambots. You need JavaScript enabled to view it.

.