Created on 1 September 2021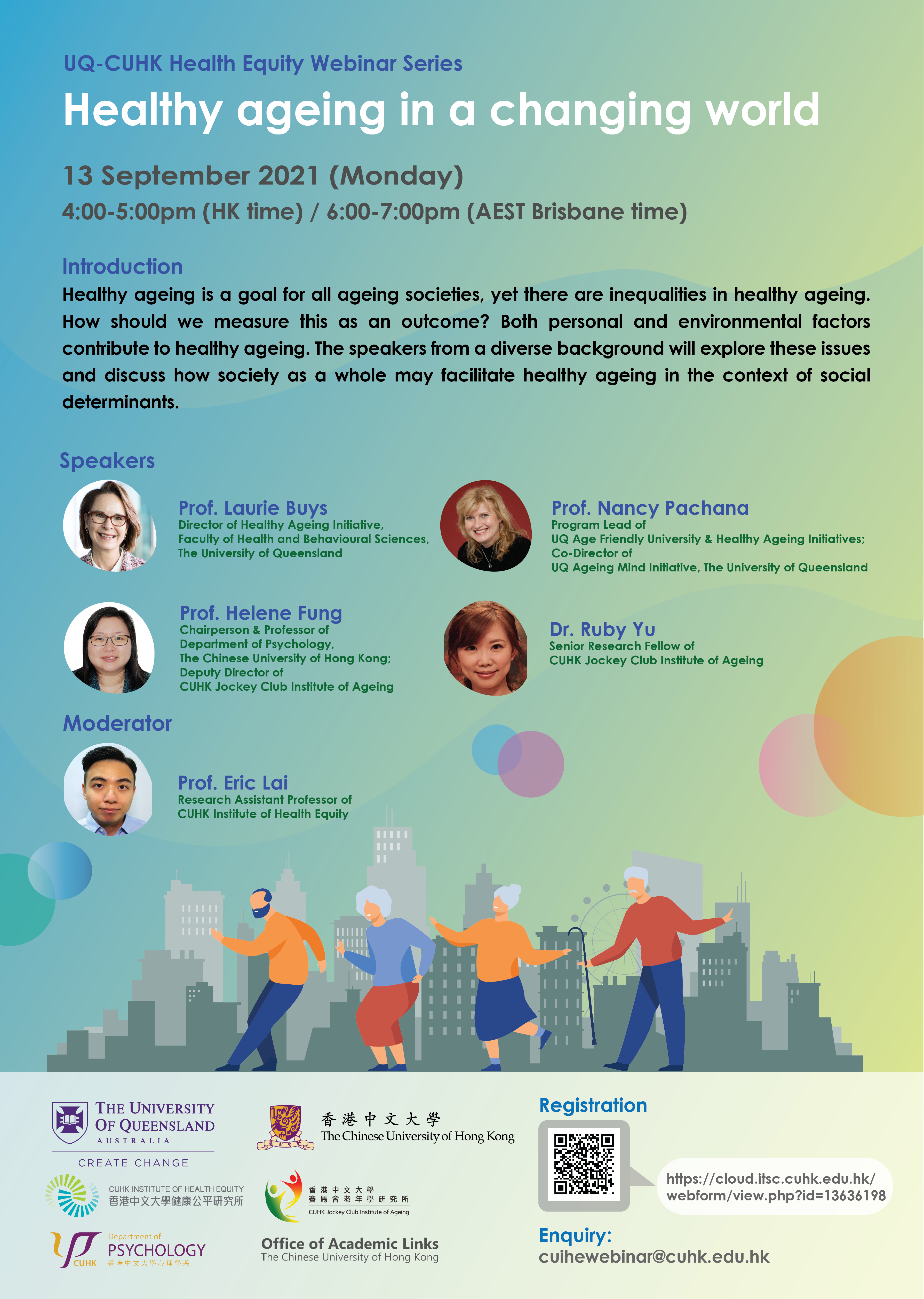 As regional leaders, CUHK and The University of Queensland (UQ) are organizing a series of webinars on health equity in the coming months to generate dialogues in this topic of global significance.
Healthy ageing is a goal for all ageing societies, yet there are inequalities in healthy ageing. How should we measure this as an outcome? Both personal and environmental factors contribute to healthy ageing. Speakers from a diverse background from CUHK and UQ will explore these issues and discuss how society as a whole may facilitate healthy ageing in the context of social determinants.
Date & Time
13 September 2021 (Monday), 4:00 – 5:00 pm (HKT) Convert to your time zone
Speakers
Prof. Laurie Buys
Director, Healthy Ageing Initiative, Faculty of Health & Behavioural Sciences, UQ
Prof. Helene Fung
Chairperson & Professor of Department of Psychology, CUHK
Deputy Director CUHK Jockey Club Institute of Ageing
Prof. Nancy Pachana
Programme Lead, UQ Age Friendly University & Healthy Ageing Initiatives
Co-Director, UQ Ageing Mind Initiative, UQ
Dr. Ruby Yu
Senior Research Fellow, CUHK Jockey Club Institute of Ageing
Moderator
Prof. Eric Lai
Research Assistant Professor of CUHK Institute of Health Equity
All are welcome.
Please click here for details and registration.