Created on 16 June 2022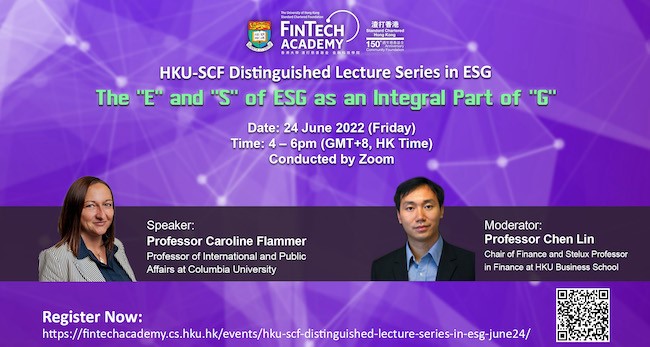 HKU-SCF FinTech Academy is excited to announce the launch of our Distinguished Lecture Series in ESG. In this series, the Academy will feature female leaders who have been advancing the ESG agenda from academia to policy and practices as speakers.
The Academy is delighted to have Professor Caroline Flammer as the first speaker of the series. Professor Caroline Flammer is a Professor of International and Public Affairs at Columbia University. She is an expert in sustainable investing and the recipient of numerous prestigious awards.

Date

24 June 2022 (Friday)

Time

4:00 – 6:00 pm (HKT)


Venue

Online | via Zoom; link will be provided upon registration

Language

English

Keynote Speakers

Professor Caroline FLAMMER
Professor, International and Public Affairs, Columbia University

Moderator

Professor Chen LIN
Chair of Finance and Stelux Professor in Finance, HKU Business School

In this seminar, Professor Caroline Flammer will discuss recent trends in the broader business environment and new practices in corporate governance, which include the i) linking of compensation to long-term financial performance, and ii) linking of compensation to ESG performance. Overall, the key insights of her research are that corporate short-termism is hampering business success — i.e. absent incentives, executives tend to underinvest in long-term projects, hurting companies, investors, society, and the natural environment — and that the environmental (E) and social (S) factors of ESG are an integral part of corporate governance (G).

The seminar will be conducted in English; all are welcome. Click here for more details.

Online Registration:
https://bit.ly/39nMCDI