Created on 26 July 2022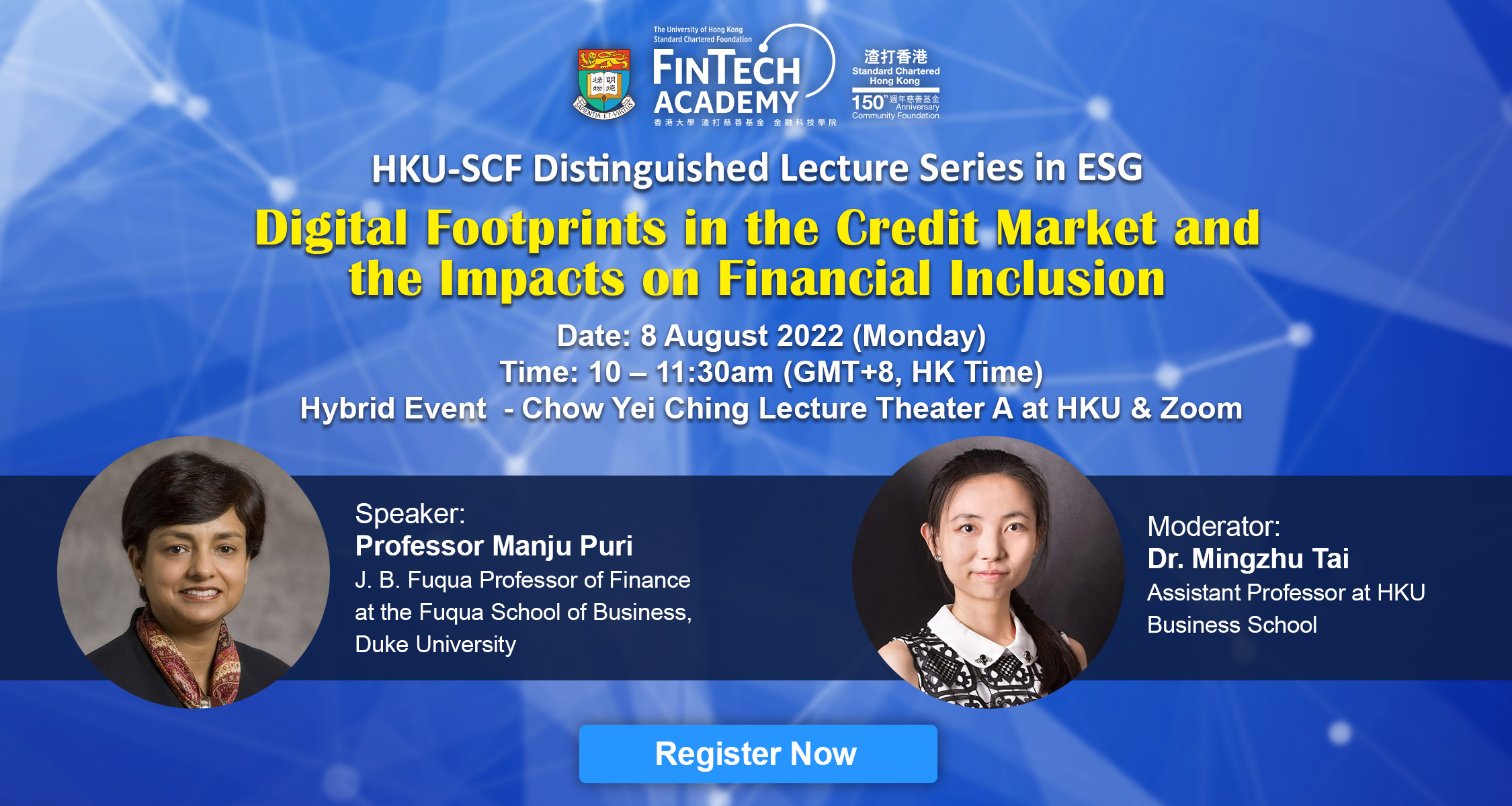 HKU-SCF FinTech Academy is excited to announce the launch of Distinguished Lecture Series in ESG. In this series, the Academy will feature female leaders who have been advancing the ESG agenda from academia to policy and practices as speakers.
HKU-SCF FinTech Academy is delighted to have Professor Manju Puri as our speaker for the upcoming lecture. Professor Manju Puri is the J. B. Fuqua Professor of Finance at Fuqua School of Business at Duke University. She is an authority in the field of empirical corporate finance and has particular expertise in financial intermediation.
Digital Footprints in the Credit Market and the Impacts on Financial Inclusion

Date

8 August 2022 (Monday)

Time

10:00 – 11:30 am (HKT)

Venue

Hybrid (In person at HKU / Online via Zoom)

Language

English

Speakers

Professor Manju PURI
J. B. Fuqua Professor of Finance, Fuqua School of Business, Duke University

Moderator

Dr Mingzhu TAI
Assistant Professor, HKU Business School

In this lecture, Professor Manju Puri will discuss the development of FinTech lending, especially how technologies and digital footprints can be used to improve lender's risk management practice. Her research shows that utilizing technologies and digital footprints can enhance the predictive power for borrower creditworthiness and lower default rates. Based on these observations, she will then talk about the potential of using financial technologies and digital footprints to increase financial inclusion for borrowers who previously lacked access to credit, especially those in emerging markets.

The seminar will be conducted in English; all are welcome. Click here for more details.

Online Registration:
https://bit.ly/3Bde5Du