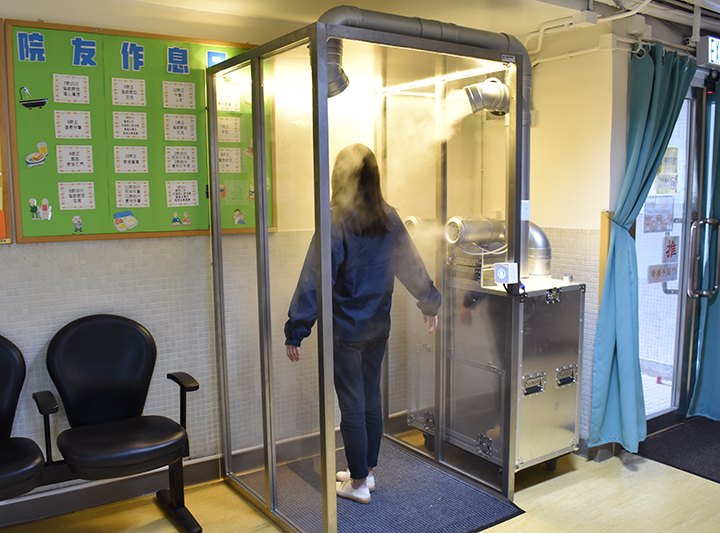 Infection prevention and control are vital in the fight against the pandemic. However, many residential care homes in Hong Kong are hindered by their physical environment, existing facilities and manpower.
In view of this, The Hong Kong Jockey Club launched the Jockey Club Facilities Enhancement Scheme for Pandemic Preparedness at Residential Care Homes in late 2020. The scheme offers a one-off subsidy to all residential care homes for the elderly ("RCHEs"), residential care homes for persons with disabilities ("RCHDs") and Nursing Homes ("NHs") subvented by the Social Welfare Department ("SWD") in Hong Kong to upgrade their safety and infection control facilities in response to COVID-19. Together with a related pilot programme, the approved funding from the Club's Charities Trust for the scheme totals HK$243 million.
A pilot programme was launched in September last year to help 25 RCHEs purchase equipment to enhance their safety and infection control. Following positive feedback, the Club extended the programme to cover all NGO-operated and private RCHEs and RCHDs as well as SWD-subvented NHs in Hong Kong under the Jockey Club Facilities Enhancement Scheme for Pandemic Preparedness at Residential Care Homes.
The scheme provides a one-off subsidy ranging from HK$60,000 to HK$300,000 to each residential care home, subject to their size or capacity. The funding enables homes to purchase equipment such as air purifiers, disinfection machines, UV sterilising machines, body temperature monitors and related items. About 1,100 RCHEs, RCHDs and SWD-subvented NHs (including the 25 RCHEs which joined the pilot programme) are expected to benefit, involving over 80,000 elderly persons and persons with disabilities and about 40,000 staff.
In addition to supporting residential care homes, the Club also launched an 18-month project, Jockey Club Support Project for the Elderly under COVID-19, in October last year with approved funding of HK$39.36 million from the Charities Trust. The project, in collaboration with eight organisations, aims to help elderly singletons and doubletons mitigate the impact of COVID-19 on their daily lives by offering telecare services, attending to their daily needs, such as through out-patient escort services and daily necessities delivery, as well as medical and health support services.
Read the full story here.