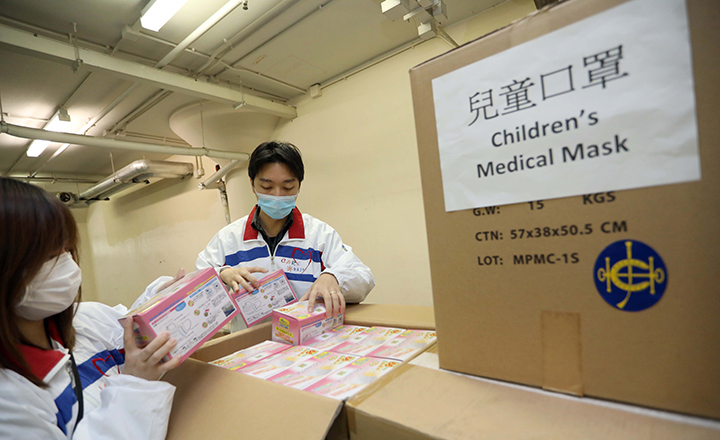 Responding to the latest wave of the pandemic, and in particular the urgent needs of the most vulnerable members of the community, The Hong Kong Jockey Club announced today (19 February) the injection of HK$100 million to its COVID-19 Emergency Fund. Established in February 2020, the fund provides fast-track grants to NGOs offering essential services to people hard-hit by the pandemic. To date, more than 200 organisations have received grants to implement over 240 projects and have helped over one million people from various sectors.
"Hong Kong is facing an unprecedented challenge, with many people in the community urgently needing our help to protect themselves and feed their families. Through this injection of funding, and through fast-tracking grants, we want to help NGOs reach out to those who desperately need our help at this very critical time," said Philip Chen, Chairman of the Hong Kong Jockey Club. "Clearly the coming weeks will be very challenging. But we must always remember that we are in this together. So we must help each other and we must stay positive. Only together can we overcome."
The Club's purpose is the betterment of our society. The Club's support for this initiative, like all of its charity donations is made possible by its unique integrated business model through which racing and wagering generate tax and charity support for the community.
The additional funding for the COVID-19 Emergency Fund will support NGOs providing services in the following three areas: (1) emotional support for disadvantaged families and individuals in distress; (2) provision of essential daily necessities to those suffering from financial hardship; and (3) urgent assistance to those most seriously impacted by the pandemic, especially low-income families with young children, the disabled and the elderly.
The application period for the Jockey Club COVID-19 Emergency Fund will start this coming Monday (21 February 2022) and last until the end of June 2022. For enquiry, please email COVID-19@hkjc.org.hk or call 2966 8745, 2966 7454 or 2966 5597 during office hours (9am to 5pm, Monday to Friday)
Together with this latest funding, the Club's Charities Trust has approved over HK$1.6 billion in funding to support pandemic relief initiatives over the past two years, with over one million people benefiting. This includes the distribution of data plans and SIM cards to 100,000 underprivileged students to support online learning during school closure periods; the provision of care packs to the homebound elderly, disabled and low-income groups; a food assistance programme for the food insecure; and a talent development initiative to support first-time job seekers. Most recently, the Club has supported the distribution of "Leave-home safe" compatible smartphones and data plans to approximately 20,000 elderly people.
Apply for Jockey Club "COVID-19 Emergency Fund"
Read the full story here.