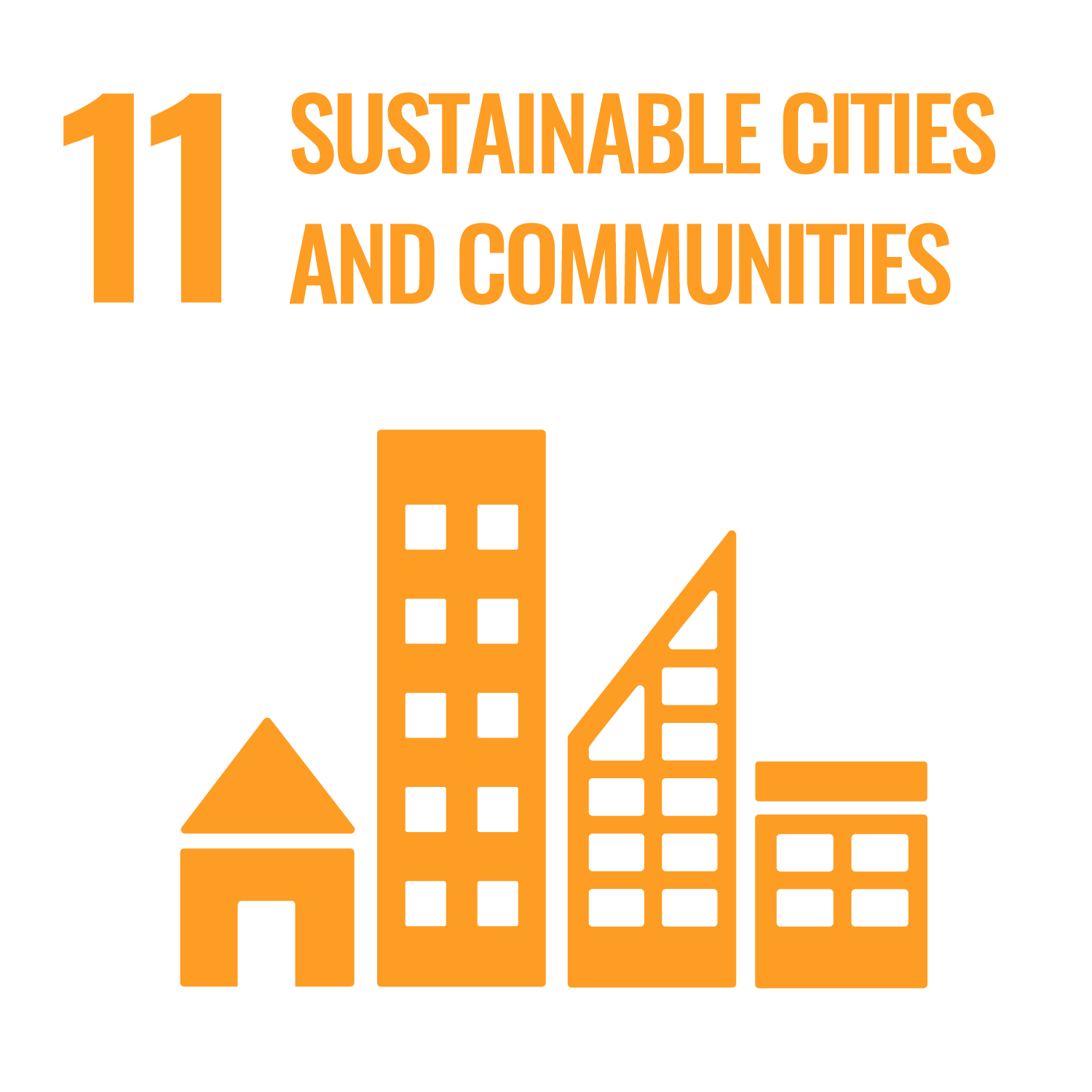 Make cities and human settlements inclusive, safe, resilient and sustainable.
1. Jockey Club Age-Friendly City Project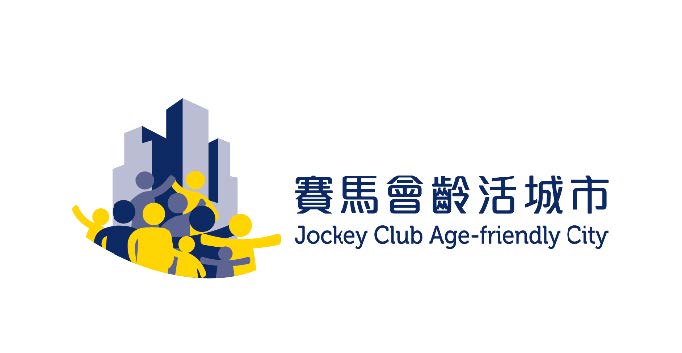 Adopting a bottom-up, district-based approach facilitating multi-sectoral collaboration, the Jockey Club Age-Friendly City Project aims to foster an age-friendly culture across all of Hong Kong's 18 districts with reference to the World Health Organisation's (WHO) "age-friendly city" (AFC) framework.
Website: http://www.JCAFC.hk/
Impacts of the Jockey Club Age-Friendly City Project: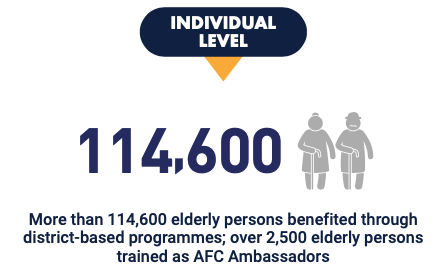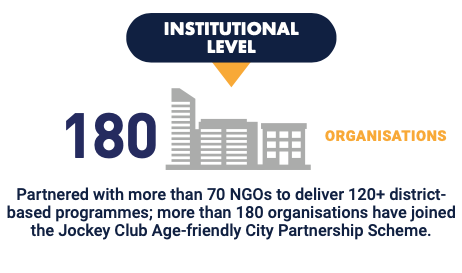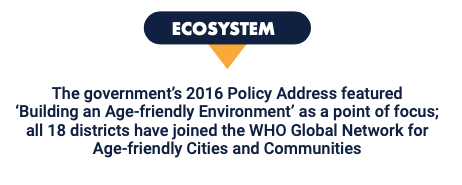 2. LU Jockey Club Gerontechnology and Smart Ageing Project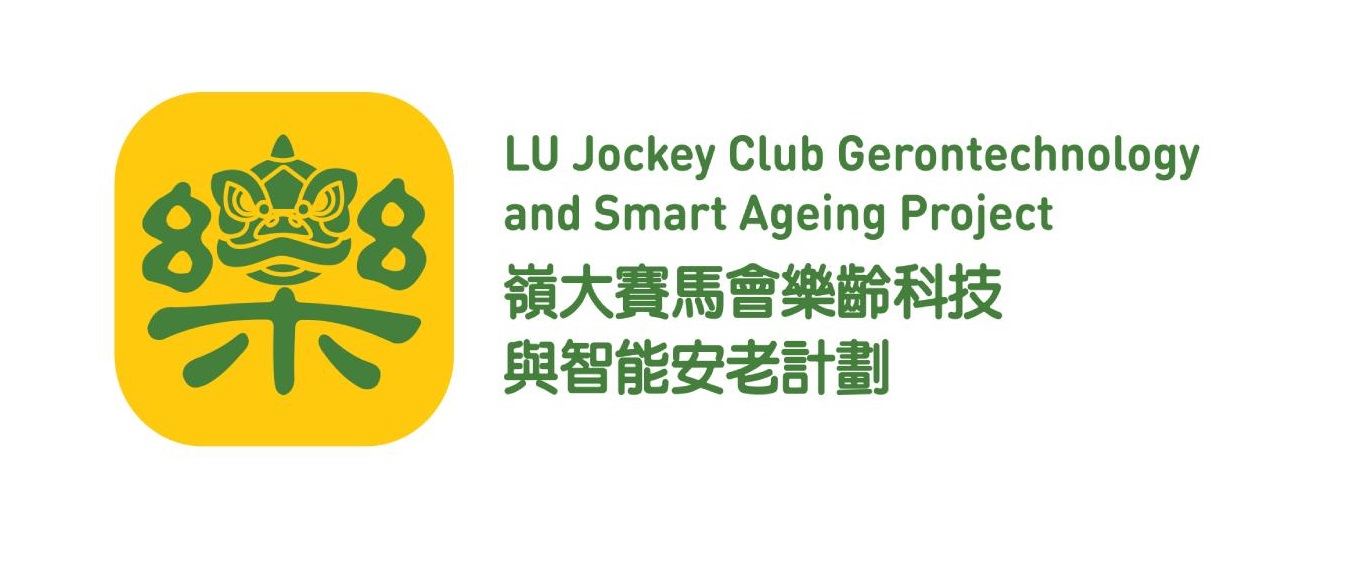 LU Jockey Club Gerontechnology and Smart Ageing Project aims to promote Gerontechnology and support smart ageing Socialpreneurship development. This project also serves as an educational platform to provide training courses and workshops on "Gerontechnology in Healthcare, Dining, Living and Transport". Baseline studies will be conducted to build a database in the areas of Gerontech products and services, social innovation and startups, with a vision to offer policy recommendations to the industry and Government.
Website: https://www.ln.edu.hk/apias/gerontechnology/en/
Major Initiatives
LU Jockey Club Gerontech-X Lab
Gerontechnology Practitioner Training Courses
Socialpreneur Incubation Courses
Gerontechnology & SocialpreneurshipIncubator
Gerontechnology Public Seminars
Gerontechnology Mobile Lab
Social Enterprise Intelligent Hub
3. Tai Kwun –Centre for Heritage and Arts

Tai Kwun is Hong Kong's Centre for Heritage and Arts — a cultural destination for inspiration, stimulation and enjoyment. It aspires to offer the best heritage and arts experiences, and to cultivate knowledge and appreciation of contemporary art, performing arts and history in the community.
Tai Kwun invites all visitors on a journey of discovery that unites multiple genres of arts, heritage, culture and lifestyle in Hong Kong. Here, visitors will discover the rich heritage of the site through the thematic exhibitions and immersive public programmes that explore Hong Kong's history and culture, alongside a multitude of vibrant and inclusive contemporary art presentations and performing arts offerings all year round.
Website: https://www.taikwun.hk
4. Jockey Club ICH+ Innovative Heritage Education Programme
The Jockey Club ICH+ Innovative Heritage Education Programme is funded by The Hong Kong Jockey Club Charities Trust, and is a collaboration between Lingnan University (LU) and Hong Kong Art School (a division of Hong Kong Arts Centre). The programme aims to promote, and redefine the Intangible Cultural Heritage (ICH) of Hong Kong with a holistic integration of investigation, education and revitalisation.
"ICH+" represents the brand new concept of "Contemporary ICH" - a project to rebrand a range of Intangible Cultural Heritage items by connecting their past to the present, so as to explore their potential vibrancy in today's world.
Website: http://ichplus.org.hk/en
Major Initiatives:
Training workshop Sharing
Art Tour
Annual Showcases
5. Jockey Club Incubating Community Participation through Modular Social Housing Pilot Programme
Funded by The Hong Kong Jockey Club Charities Trust, the Hong Kong Council of Social Service launched Jockey Club Incubating Community Participation through Modular Social Housing Pilot Programme at the Nam Cheong Street site.
It is expected that new residents can develop their ability and contribute to the community, on top of obtaining supports from the service operator. To develop a better housing project, the engaged service operator will play a role to provide social services to new residents such as designing saving plan with residents, providing community participation programme, employment training and support service, in order to improve their capacity for tackling living challenge. The services for social housing are designed at individual level and community level.
Individual level: Support tenant to learn life skills like saving plans and increase their awareness of community resources to improve their capacity in tackling living challenge such as how to rent a flat in a private market.
Community level: Help residents establish social network with neighbors and the larger community in order to have more social support, and meanwhile contribute to the community.
6. Jockey Club "Events Go Green" Programme

Holding an event will inevitably bring impacts to the environment, as huge amount of solid waste is likely to generate. Jockey Club "Events Go Green" Programme is organised by The Green Earth and funded by The Hong Kong Jockey Club Charities Trust. The programme aims to encourage event organisers and participants to hold and join large scale events in an environmentally friendly way. Under the programme, "Waste Reduction Support for Green Events" service will be provided to charity events and non-profit events.
Major Initiatives:
Educational and Promotional Support
Waste Reduction and Recycling Support
Waste Audit
Website: https://greenearth.org.hk/en/eventsupport/
7. One University One Village (1U1V)
One University One Village (1U1V) is a rural sustainable development assistance programme launched by Professor Edward Ng and Dr Li Wan at CUHK. Its goal is to bring together the expertise, knowledge and human resources of a university to improve the livelihood of a village and needy villagers in a strategic, systematic and sustainable manner, with the goal of inspiring and demonstrating how to improve rural communities in China in the future.

1U1V has won the 2021 International Green Gown Awards in the category 'Benefitting Society'. The judges commented that the project provided much needed sustainable reconstruction in rural areas and empowers local citizens to continue this valuable work. The holistic approach taken made this a winning entry to illustrate how ethical development can lead to empowerment, especially women, and the inclusion of climate adaptation and skills transfer.
8. Architecture on a Social Mission


Like many other Chinese villages, Gaobu, with a population of 2,500, is challenged by so-called 'village hollowing', with the working-age population migrating to the cities. Most left-behind children lack educational opportunities and spend their leisure time online rather than reading. The Gaobu Book House, a children's library in Gaobu, a Dong minority village in Hunan Province, designed and built by Professor Peter W. Ferretto and his team from Condition_Lab, in the School of Architecture at CUHK, was devised for children in Gaobu to learn through playing and interacting with their peers. It demonstrates how traditional architectural elements and methods can be creatively used to make a real difference in improving rural communities.

The project received an award in the 'Completed Buildings – Civic and Community' category at the World Architecture Festival in 2019.
9. Shaping a Supportive, Inclusive, and Attractive Living Environment for Healthy Ageing
Happy Ageing Lab, a social enterprise funded by the CUHK Sustainable Knowledge Transfer Project Fund in 2021, advocates a new approach to the design and management of the built environment in the interests of healthy ageing, by providing participatory research and development services, bridging users and professionals, and fostering interdisciplinary collaborations. The lab has organized a community project, The Nutcrackers, to encourage old people to explore how the built environment influences their own wellbeing.
10. Urban Design to Mitigate Urban Heat Island Effect
A research team from the Institute of Future Cities (IOFC) at CUHK has suggested a bioclimatic design along urban waterfronts to mitigate the urban heat island effect and improve urban quality of life. By analysing redeveloped urban forms, ventilation corridors and extensive greenery at waterfront in Victoria Harbour, Hong Kong, the team found that the skilful use of combined urban forms and ventilation corridors along waterfronts could produce a more acceptable pedestrian-level wind environment and improve ventilation within inner urbanized areas, while the provision of more greenery along waterfronts would have significant cooling benefits.


To learn more about SDG 11, please refer to the UN website.