Created on 31 August 2022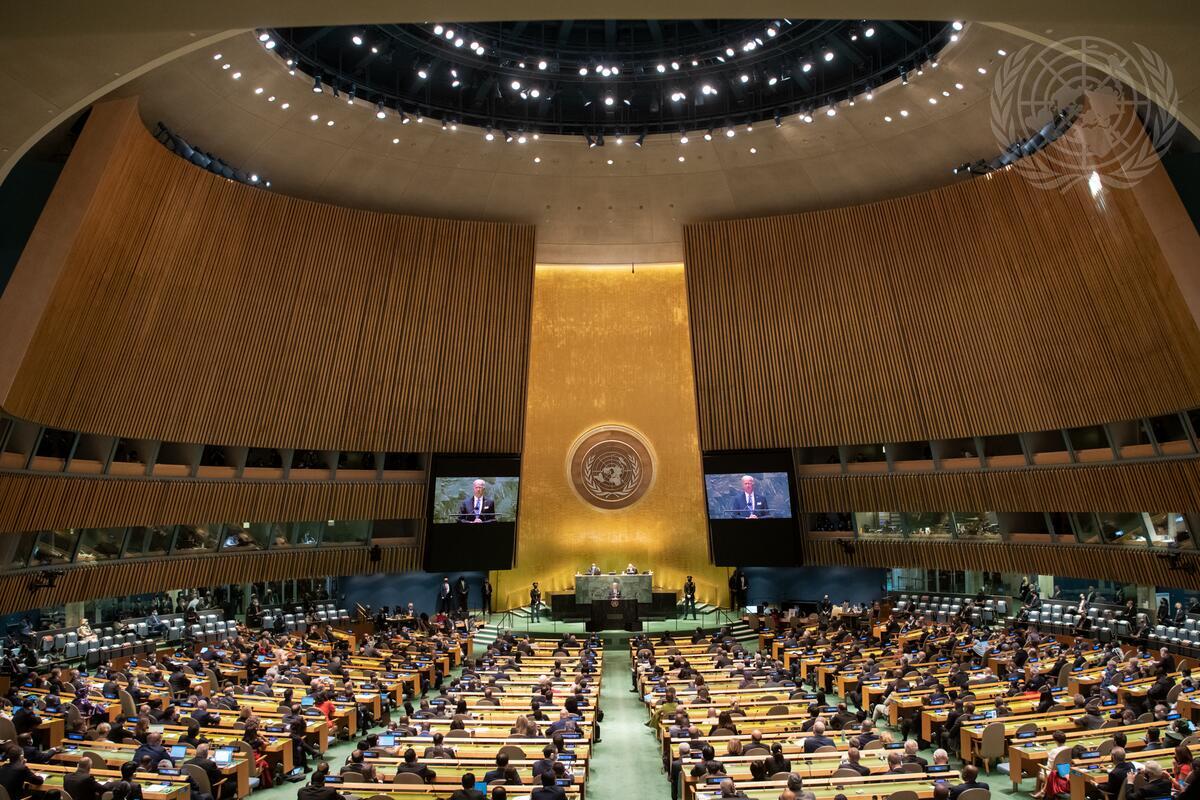 Source: UN Photo
The UN General Assembly (UNGA) is the main policy-making organ of the United Nations. Comprising all Member States, it provides a unique forum for multilateral discussion of the full spectrum of international issues covered by the Charter of the United Nations. Each of the 193 Member States of the United Nations has an equal vote.
The 77th session of the UN General Assembly (2022 UNGA) will open on 13 September 2022. SDSN is hosting a variety of events alongside the 2022 UNGA. Below are the details:
Date & Time
Venue
Event

15 September 2022
09:30 – 11:00 pm

Hybrid (In-person at Bahá'í International Community's Conference Room, New York, NY / Virtual)
Accelerating the rule of law and scaling sustainable development to end deforestation in the Amazon Basin

15 September 2022
11:00 pm – 00:30 am
(16 September 2022)

Virtual
The Lancet COVID-19 Commission Report Launch

16 September 2022
1:45 – 3:15 am

Hybrid (In-person at Scandinavia House, New York, NY / Virtual)

The Amazon We Want: Science-Based Pathways for a Sustainable, Inclusive, and Resilient Amazon

17 September 2022
2:00 – 4:00 am

In-person at Scandinavia House, New York, NY

The Amazon as a Bioeconomy Superpower: Investing in Innovation and Technology for Sustainable Development

18 September 2022
4:30 – 6:00 am

In-person at United Nations Headquarters, New York, NY; Livestream available

UNESCO Open Education Resource (OER) Recommendation within Multi-Stakeholder Partnerships
[Official Side Event of the UN Transforming Education Summit]

19 September 2022
00:00 – 1:15 am

Ministerial Panel: Transforming Education for Prosperity, People and the Planet

19 September 2022
1:00 – 2:00 am

Deepening the Impact of Education for Sustainable Development through Social Emotional Learning and Happiness

19 – 20 September 2022

International Conference on Sustainable Development (ICSD)

21 September 2022
10:00 – 11:30 pm

Energy Transition Showcase: Costa Rica, Brazil, and United States
For details and registration, please visit the SDSN Global website.
You may be interested in...