Created on 05 June 2023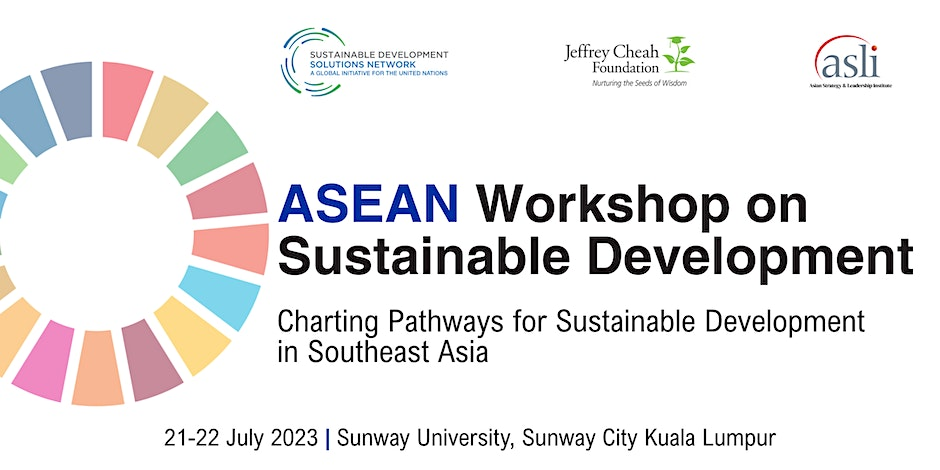 𝗧𝗵𝗲 𝟮𝟬𝟮𝟯 𝗔𝗦𝗘𝗔𝗡 𝗪𝗼𝗿𝗸𝘀𝗵𝗼𝗽 𝗼𝗻 𝗦𝘂𝘀𝘁𝗮𝗶𝗻𝗮𝗯𝗹𝗲 𝗗𝗲𝘃𝗲𝗹𝗼𝗽𝗺𝗲𝗻𝘁, co-organized by the ASEAN Secretariat and SDSN, will bring together ministers, stakeholders, and subject matter experts from the ten ASEAN countries and Australia to discuss issues of energy, education, ecosystem conservation, and partnerships for sustainable development. This workshop will serve as a crucial forum to discuss and affirm national strategies for achieving the SDGs in preparation for the 2023 SDG Summit and the 2024 Summit for future.
Date

21 July 2023 (Friday)

22 July 2023 (Saturday)

Time

9:30 am – 6:00 pm (HKT)

9:00 am – 6:00 pm (HKT) Convert to your time zone

Venue

Hybrid (In-person: Sunway University, Kuala Lumpur | Live-streaming)

Language

English
Please click here for more details.
You may be interested in...