On the afternoon of March 24 Beijing time, a joint statement on the 2030 Agenda for Sustainable Development was formally announced at an online forum hosted by Zhejiang University.
As of the opening of the forum, presidents of 56 universities from 30 countries and regions have signed onto the statement. It is the first time that leading universities across six continents have jointly made a statement on sustainable development goals (SDGs), reaffirming collective commitment of the global higher education community to solidarity, resilience and prosperity.
Focusing on the role of universities in the 2030 Agenda, the virtual forum brought together a diverse group of speakers including UN high-ranking officials and presidents of 13 universities around the world.
At the opening, speakers called for joint efforts in blazing new trails and expanding the boundaries of higher education. Mr. Nikhil Seth, UN Assistant Secretary-General, urged the world to learn lessons from 2020 and focus on transformations of health, energy, food, education and financial systems, which will be the minimum insurance for a sustainable future. Ms. Stefania Giannini, UNESCO Assistant Director-General for Education, commended the Forum for its timely coordination of international efforts for accessible, equitable and inclusive higher education. Professor Pam Fredman, President of the International Association of Universities (IAU) echoed the importance of cooperation and cohesion among higher education institutions and organizations in fostering knowledge development.
Stating his view on the role of innovation-driven universities in the 2030 Agenda, Professor WU Zhaohui, President of Zhejiang University, said, "they should further unleash their unique potentials in terms of education, research and partnership to make substantial contributions." Professor Peter Salovey, President of Yale University, shared Yale's practices and achievements on SDGs. "The university has reduced greenhouse gas emissions by 43 percent over the past 15 years, even though the campus square footage has increased significantly."
The opening was followed by three sessions. In the first session, speakers explored the approaches to educating for a sustainable future. Professor Michael Spence AC, President and Provost of University College London, shared how UCL incorporates sustainability into teaching and champions international, inter-institutional and cross-disciplinary solutions to challenges. Professor Stephen Garton AM, Vice-Chancellor and Principal of the University of Sydney stressed the moral obligation of comprehensive universities towards the SGDs through education, research and operations.
Professor Eric Labaye, President of École Polytechnique, noted that the School places sustainable development at the heart of its education and research with its actions and initiatives working towards social diversity and gender equality. Professor Wendy Wolford, Vice Provost of Cornell University, said that Cornell's campus is where the core educational mission and sustainability values converge.
The second session examined the importance of advancing scientific collaborations in addressing grand challenges. Professor Norihiro Tokitoh, Executive Vice President of Kyoto University, presented diverse forms of collaboration with institutions worldwide, including launching a joint research center on zero-emission energy sources. Professor Svein Stølen, Rector of the University of Oslo, particularly underlined the need to strengthen knowledge and technology developments in low-income countries. "Inclusive, more equal and mutually beneficial partnerships must be developed — at the global, regional, national and local levels," he said.
Professor Rocky S. Tuan, Vice-Chancellor and President of the Chinese University of Hong Kong, highlighted CUHK's role as a co-host of the Hong Kong chapter of the United Nations' Sustainable Development Solutions Network and an active member of various higher education networks. Professor Andrei Rudskoi, Rector of Peter the Great St. Petersburg Polytechnic University, shared the SPbPU's approach of rapidly concentrating resources on significant global problems, while citing its World-Class Research Centre as a successful experiment.
In the final session, the speakers took a look into their own campuses and called on universities to transform themselves into living labs that would serve as scalable sustainable testbeds. Professor Wim de Villiers, Rector and Vice-Chancellor of Stellenbosch University, noted the dual responsibilities of a research university: in addition to producing cutting-edge knowledge, it should put theory into practice by taking tangible steps on campus to combat climate change. ZJU's Vice President Professor HE Lianzhen echoed this point with an overview of how the University's young International Campus in Haining had incorporated sustainability in its design, construction and operations.
The universities also shared their campus actions and goals by 2030. According to Professor Tan Eng Chye, President of National University of Singapore, NUS is embarking on its Climate Action Plan 2030, which comprises Carbon Neutral Campus and Cool NUS (by 4 degrees Celsius). Professor Mieke Van Herreweghe, Vice Rector of Ghent University, voiced support for the EU ambition to be climate neutral by 2050 and introduced UGhent's specific goals for the period 2020-2030, such as reducing CO2 emissions from building heating and electricity by 1.5% per year.
The forum was livestreamed to over one million viewers around the globe via different platforms of social media. Participants agreed that the forum would help to forge a dialogue on paths forward among multiple stakeholders as the world is facing a pressing need to scale up efforts to deliver on the 2030 Agenda.
Media contact: Ms. HE Jiawen (hejiawen@zju.edu.cn), Office of Global Engagement, Zhejiang University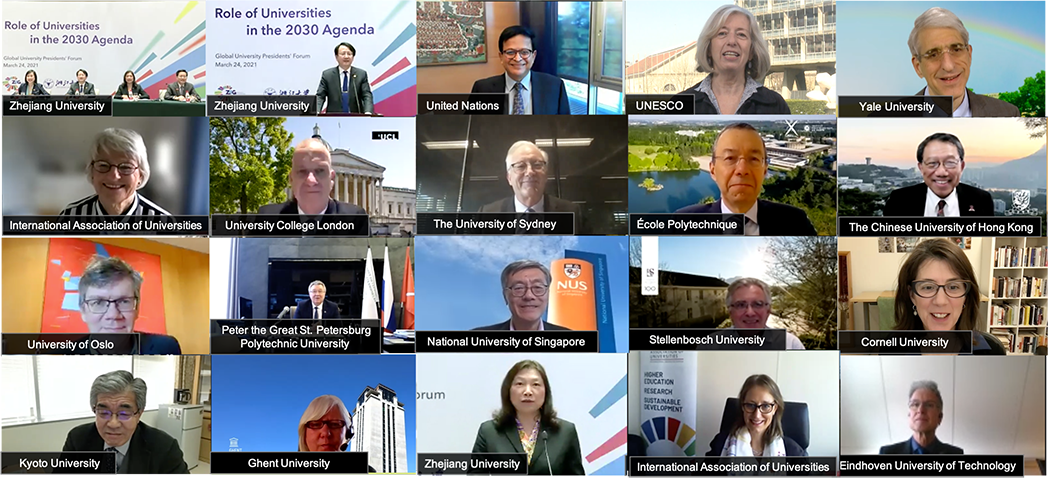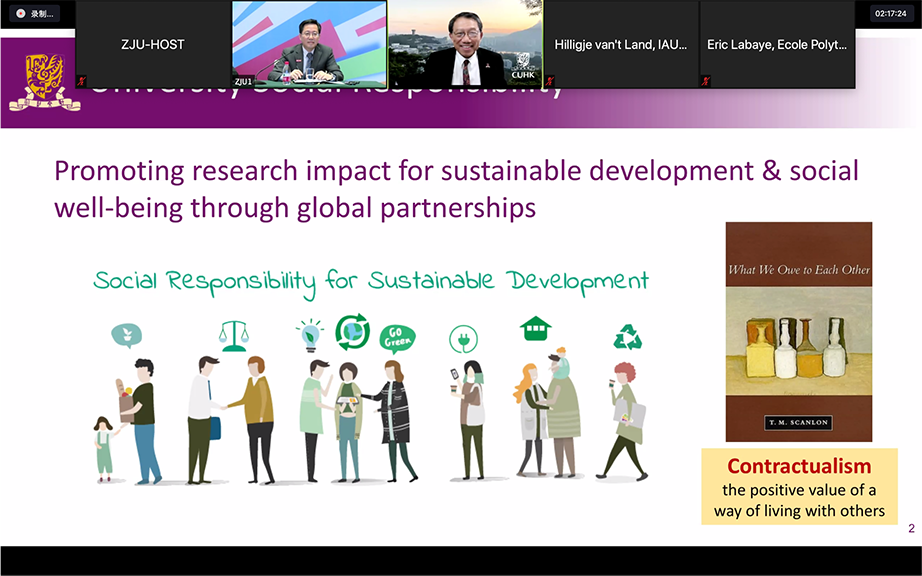 You may be interested in...