Created on 15 Jun 2023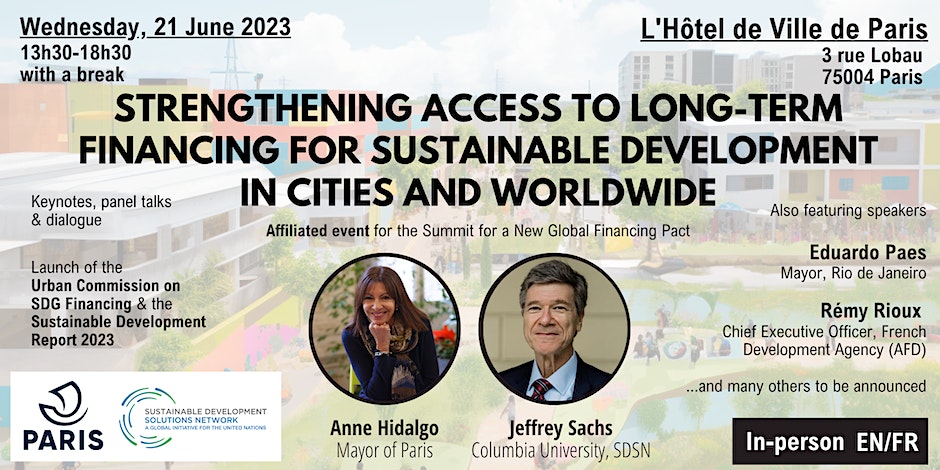 Strengthening Access to Long-Term Financing for Sustainable Development in Cities and Worldwide

In partnership with the Mayor of Paris, Anne Hidalgo, and the city of Paris, UNSDSN will host a high-level event as part of the Paris Summit on a New Global Financing Pact. The event aims to provide important contributions in preparation for several global finance meetings this year, to strengthen international financing for achieving the SDGs in cities and globally. It will notably feature the launch of a new Global Commission for Urban SDG Finance and the release of the 2023 Sustainable Development report – which tracks the SDG performance of all UN Member States every year.

Date

21 June 2023 (Wednesday)

Time

7:30 pm – 12:00 am (HKT)

Format


Hybrid (In-person at Hôtel de Ville, Paris | Live-streaming)

Language

English and French

Featured Speakers

Professor Jeffrey SACHS
President, Sustainable Development Solutions Network

Mayor Anne HIDALGO
Mayor of Paris

Mayor Eduardo PAES
Mayor of Rio de Janeiro
Please click here for more details and the full list of speakers.
The Sustainable Development Report (formerly the SDG Index & Dashboards) is the first worldwide study to assess where each country stands with regard to achieving the Sustainable Development Goals. Unlike its predecessor the Millennium Development Goals, the SDGs set standards not only for emerging and developing countries, but also for the industrialized nations. Governments and civil society alike can utilize the Sustainable Development Report to identify priorities for action, understand key implementation challenges, track progress, ensure accountability, and identify gaps that must be closed in order to achieve the SDGs by 2030.
You may be interested in...